Patch Alpha 1.1.4 Patch Notes - 25th September 2013
Patch Alpha 1.1.4 Changelog
GAMEPLAY
All stat functions reworked

Combat calculations rewritten. Damage is now also based on hit chance, dodge rating, 

and level difference of combatants

All stats scaled up so as to allow more variation in gear dependacy

Vital Stats will no longer regenerate while enemies are nearby

Added the ability to toggle Permadeath on starting a new game

Goblin Cutpurse's "Short Changed" no longer applies on skipped turns

Removed Lairs from dungeon generation, Boss Floors coming soon

Reduced spawning of Mushroom Farms and Gold Rooms

Rebalanced many skill and passive effects
ITEMS

Added new Scrolls!

Added new Potions!

Removed Strength, Agility, and Intelligence Potions

Removed "Wand" from Staff naming
ENEMY

Enemies will now attempt to break down doors which block their paths

Renamed some enemy types

Rescaled Enemy spawn level per floor
INTERFACE

Added Custom Key Binding and Controls Menu

Added item stats to Tooltips

Added the option to toggle the position of the Tooltip window (Tab)

Improved Tooltip placement to ensure it never goes off screen

Scrolls can now be used on equipped items
GRAPHICS

Updated stat icon graphics
SYSTEM

Removed loads of redundant files and code
BUGFIX
Fixed lack of continuous scrolling on dropdown menus

Fixed the position of the Game Over return button

Fixed a bug where one scroll would not highlight when using a Scroll of Identification

Fixed a crash caused by attempting to unlock missing roles

Fixed the scrolling text window priority when other windows are displayed over it
Patch Alpha 1.1.4 Preview
Hello all. Apologies for the lack of news over the past few weeks. If you follow me on Twitter, you would have seen that I have recently moved to Derby, England, and am now studying at the University of Derby. Of course, this has meant that I have had less time to work on Claustrophobia, but I will still make sure regular updates are released. So, Alpha 1.1.4!
Full Stat Rebalance
Since the first release, I have been almost constantly trying to rebalance and alter Claustrophobia's stats so that there is both the right amount of variation in the values to allow new gear to add significant upgrades, and enough similar valued enemy stats to keep combat balanced even if you choose to spec entirely into, say, Agility. In my opinion, this has not been entirely successful, and so, for that reason, I have re-purposed a lot of stats, and changed the scaling of almost everything. Suffice to say, it was a massive job, and one that will continue to be refined based on the feedback I receive from those of you playing the Alpha.
The new changes include a few things:
All base stats have been doubled, meaning there is less of an impact when individual pieces of gear are swapped out, and more of an impact when higher rarity items are worn.
A number of new mechanics are in place behind the scenes, which calculate combat figures in new and more interesting ways.
Stamina now increases your maximum health, and your armour.
Strength now increases the damage done by melee weapons, and increases block chance.
Agility now increases the damage done by ranged weapons, and increases your hit and dodge chance.
Intelligence now increases the damage done by mage spells, and increases your maximum mana.
All enemy stats, and the way they scale each level, have been rebalanced.
Because of these changes, save files from 1.1.3 will unfortunately not carry over, since the gear you character would be wearing would not protect him/her any more!
Somewhat related to these changes, is this screen that made its way onto my Twitter last week: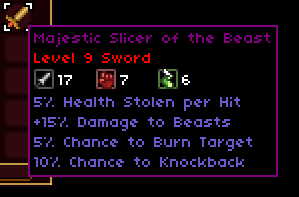 Firstly, gear now has a much nicer tooltip design, with new graphics portraying each of the stats. Secondly, although not entirely making its way into the next patch, I have begun work on ability modifiers for gear. This, coupled with stats that actually make a difference, mean you really have to consider the gear you choose. 
More on these coming soon, but in 1.1.4, one modifier will be introduced: one that fans of roguelikes will love to hate.
Full Keyboard Rebinding and new Key Functions
This is pretty self explanatory. Everyone asked for it, and finally, it's in. The controls menu, found here: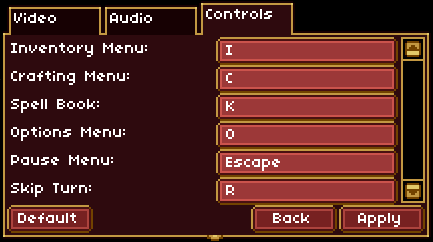 Not only displays all of the functions and the key that match them, but also allows you to rebind them to any key you wish. There are also some new functions hiding in there, such as the ability to toggle the position of the tooltip away from the mouse. Please note that the numlock movement/interaction controls are still a work in progress, and the game is not quite really to be controlled exclusively with them.
New Potions, Scrolls, Enemy AI, and Bugfixes
Finally, there's a load of what that subtitle says. New stuff to find, new ways to die, and less ways to break the game. Among these changes/additions:
Enemies will now attempt to follow you through doors you close, and will attempt to break through until they lose interest, or run out of strength.
Added the ability to toggle permadeath on starting a new game (permadeath is on by default)
Improved the positioning of the tooltip to ensure that it never goes off screen.
Scrolls can now be used directly on equipped items instead of forcing you to first unequip them.
And that is that. This patch will be the one that needs the most testing by fair, as I'm sure somewhere along the line there will be a certain combination of stats/enemies which cause disruption. If you find anything like that, or have any feedback at all, drop me a message somewhere!
Alpha 1.1.4 will hopefully be out some time next week, depending on my Uni workload!
~TheIndieForge
Patch Alpha 1.1.3 Released - 27th August 2013
Patch Alpha 1.1.3 Changelog
UI
Added coloured border to Tooltip window which reflects the highlighted object's rarity
Added smoother text wrapping and border scaling to the Tooltip window
Added Sort button to Inventory Panel
Improved Inventory sort order (Consumables, Crafting, Active, Misc, Gear)
Inventory Sort now prioritizes item level over rarity
Inventory Sort now properly groups stackable items together
Added Action Text for failing to equip or sell Unidentified Items
Added Action Text for selling Items
Added Action Text for failed crafting results
Added number of items on a stacked tile to Tooltip
GRAPHICS
Updated Buttons/Tick boxes appearance
Updated Stairs appearance
Updated Gobbling appearance
Updated Dirt appearance
SYSTEM
Added a temporary workaround to those users with audio driver issues. Go to Documents\SavedGames\Claustrophobia\Setting Data\Player1, open SettingData with notepad or similar, then add the line "<noAudio>true</noAudio>" (without quotation marks) on a new line just above "<_musicVolume>". Don't change any other values, save and close the file, and run Claustrophobia as normal.
BUGFIX
Fixed Health Sap's tooltip and ingame text
Fixed Longbowman's Knockback causing the targeted enemy's tile to remain impassable
Fixed being unable to pick up items dropped on door tiles
Fixed mana or health going over maximum values when unequipping gear with stat bonuses
Fixed being unable to use both a Cauldron and an Anvil if both were in range
Fixed being able to place items on shop plinths after loading a game
Fixed an occasion where a price would appear for selling Unidentified Items 
Fixed a loading bug which caused floors to be stored in arrays 3 times too large
Fixed a loading bug which caused the minimap to centre on the player even if they were on the outskirts of the map
Fixed Tooltip flickering when picking up items
Fixed Tooltip priority for items in doors and chests
Fixed a level appearing on Scroll Tooltips
Fixed starting item's weapon type
Fixed an inventory sorting bug which caused miscellaneous and crafting items to sort alphabetically, rather than by their individual types
Upcoming Feature Discussion & Patch Alpha 1.1.3 Preview
Hello all! If you follow me on twitter, you'll have seen that I am away at the moment, and have been working on Claustrophobia from my laptop while travelling. This particular laptop has had issues in the past with compiling XNA projects, causing fonts to appear blurred and unreadable, but it seems to have put that behind it now. Laptop and internet connection permitted, I will be releasing Alpha 1.1.3 within the next few days. This patch, which I discuss in more detail further down, is mainly to fix the majority of outstanding bugs, and add a number of improvements to UI functionality and appearance. New Content and features will follow in 1.1.4, which I want to discuss here first, since they are still concepts at this point. So, onward!
Dungeon Layout and Progression
So far, Claustrophobia's Alpha has consisted of infinite floors of the original Castle design, which has had a number of face-lifts over time. The original plan was to have a collection of different floor styles which each had a number of different monster types that inhabited each, and then when a new floor was generated, a floor type for it would be randomly selected from the list. The problem with this system, as I have found while trying to work on it over the past few months, is that this sort of system is incredibly hard to balance, since the floors could appear in any order, and could potentially mean that in a couple of different games, you could have experienced majority of the different zones.
The other major problem with this design is that there is no progression for the player, no goal to strive toward, and no "completion". I am aware that for some of you, an endless dungeon is more fun than that with a finish, and I will continue to work on trying to balance a different endless mode, but for now, the alpha will be switching from an endless dungeon to the design shown below: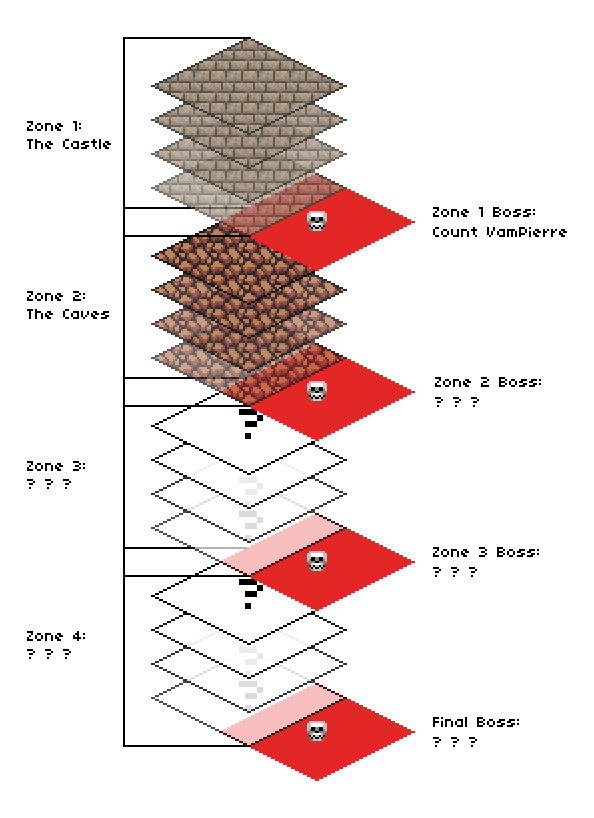 Each zone will consist of four floors of a certain design, with unique terrain generation, enemies, special rooms, and music. Boss rooms will also be removed, with the boss instead being located on the fifth floor of a zone, in a specially designed arena which will reflect the bosses mechanics. If the boss is beaten, you will then travel down to the next zone. I won't be revealing Zones 3 or 4, nor the other three bosses yet, but I will be able to release each zone in future patches.
Hunger and Health Regeneration
In 1.1.4 I will be introducing a hunger system, and food will no longer heal you, instead reducing hunger when eaten. Because of this, there will be a lot more food varieties introduced, as well as, possibly, cooking, and the ability to collect food from fallen foes. Starving in Claustrophobia will not kill you, but will instead reduce the amount you can passively heal. Your hunger is used up as you passively heal, and the better fed you are, the more you regenerate. If you are starving, you will not regenerate at all. There is a little more to the new health regeneration system than that, but it is not ready for 1.1.3, so I will discuss the other changes before 1.1.4.
Alpha 1.1.3 UI Improvements
Anyway, enough of design discussion. Now lets discuss the changes in 1.1.3. As I said at the start of this post, other than a large number of bug fixes, the main changes are in UI functionality.
First off, I have rewritten tooltips, so that the text wraps much smoother, and also properly scales so that there is always a consistent maximum window size. This is much more apparent in use than in writing. There are also a number of other improvements, such as a coloured border which reflects item rarity, and a quantity counter for item stacks on the floor.
Inventory sorting has been improved, so that stackable items will now be grouped together properly, and a Sort button has been added to the inventory panel, for those without a middle mouse button.
I have also improved a number of graphics, such as UI buttons, and some of the older tiles and sprites.
For those of you who have yet to play Claustrophobia, I have also updated the screenshot collection, and any old information.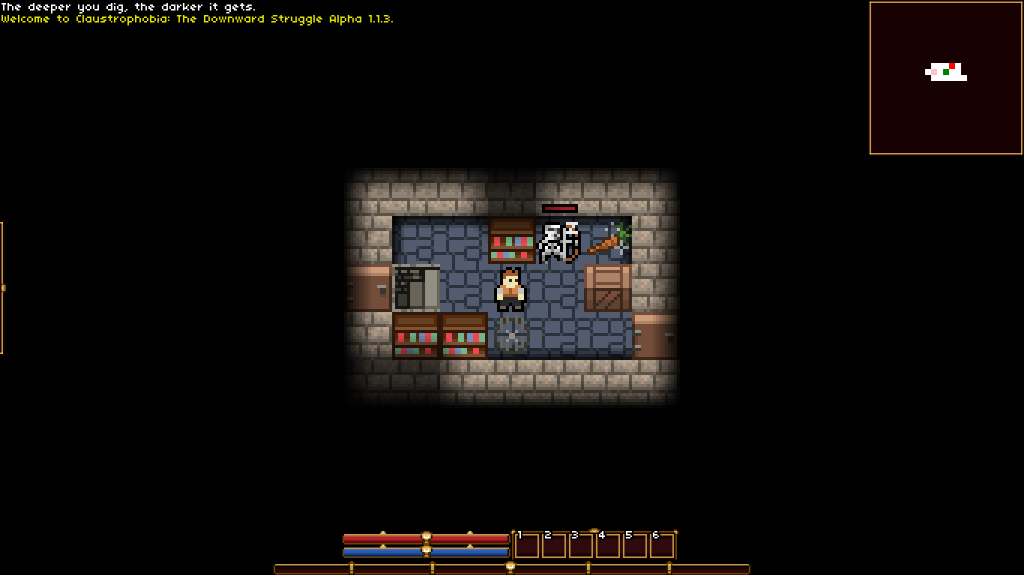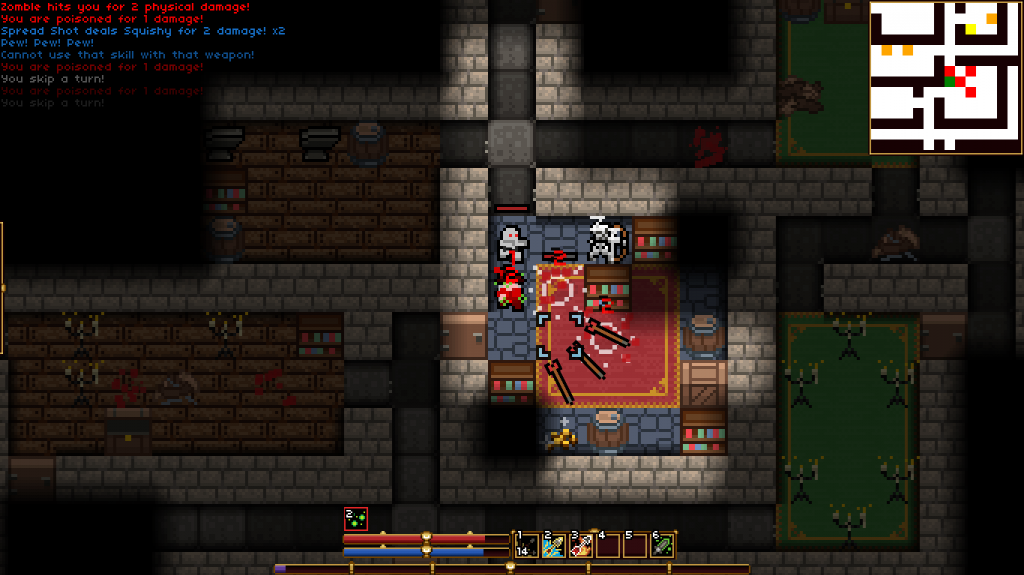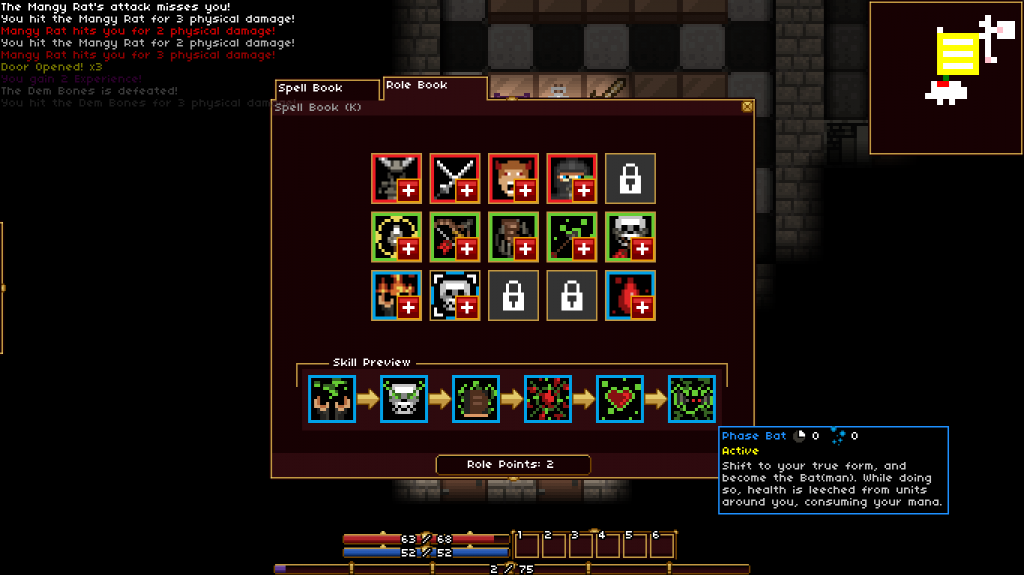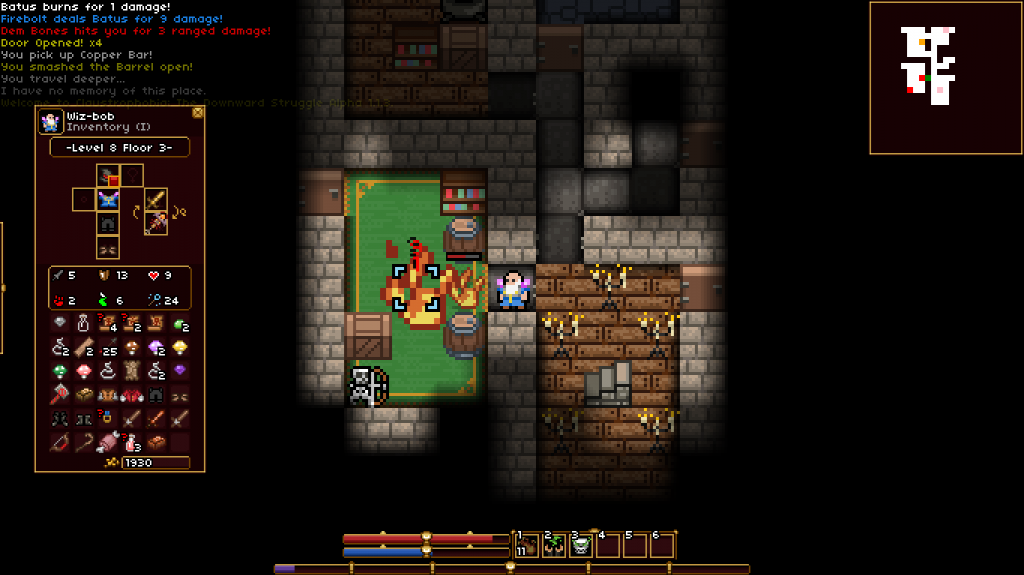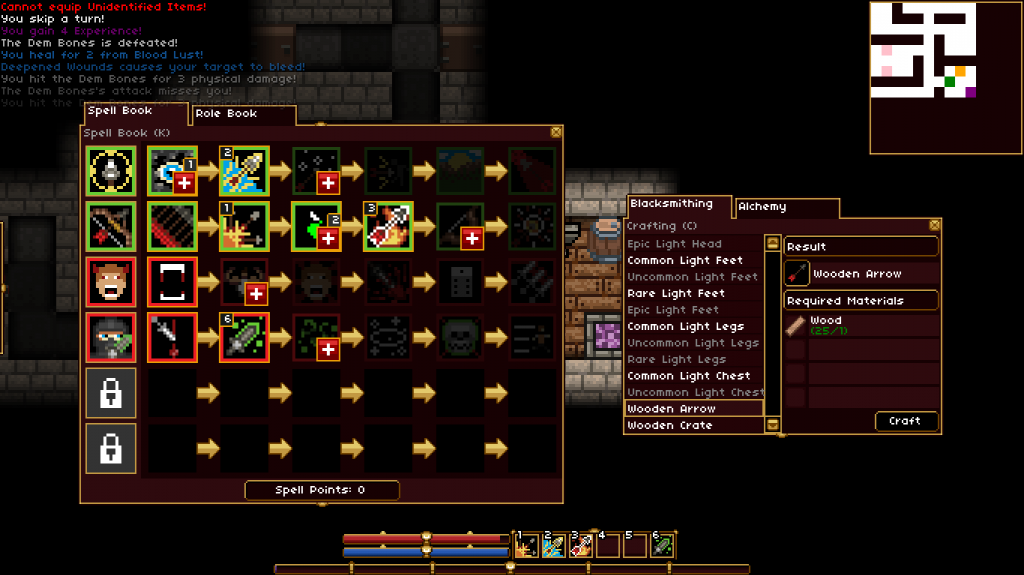 Until next time!
~TheIndieForge
Patch Alpha 1.1.2 Released - 3rd August 2013
Patch Alpha 1.1.2 Changelog
GAMEPLAY

Completed Assassin!
Completed Shortbowman!
Added Trap Disarming!
Added Poison traps!
Bookcases can now be searched for items
All new characters now start with a sword, bow, and staff
Increased the spawning of stairs between floors
ITEMS
Added Tome of Experience!
All bow damage increased by 50%
Potions now have a 50% chance that the bottle will be destroyed after drinking
ENEMY
Added Featherbrain!
Added Featherbrain Egg!
Added Possessed Armour!
UI
Buff and Skill cooldowns now outlined for easier reading
Text added for swapping equipped weapons
Searched chests no longer appear on the map
GRAPHICS
Added a load of new gear graphics
Tidied up a lot of the older skill and buff graphics
SYSTEM
Changed how interactive objects are stored and loaded, which should cause improvements to load times, and overall game speed, and corrects bugs relating to doors and breakable objects appearing in the wrong state after loading a save file. Also makes adding new objects to the game engine much easier. Please note that due to this system change, some aspects of games saved before this patch (1.1.2) may behave slighty oddly, but will remain playable. Any issues will be corrected on starting a new game, or entering a new floor. 
Save files now keep track of the game's version number when saving, which should make converting incompatible save files across patches easier.
BUGFIX
Fixed tooltip and equipping of headgear in Inventory
Fixed skill animations bugging in fog of war
Fixed Active and Passive tooltips displaying in red
Player passability now correctly updates on using a Scroll of Teleportation
Tooltips will now display the information for the highest priority object on a tile
Fixed a rare hang on starting a new game caused by only 1 portal spawning on a floor
Hello all! Today (29th July) is my birthday! To mark the occasion, I will be running a 50% off sale on Desura from Monday through to Friday, bringing Claustrophobia's price down to $2.49 / £1.49 / €1.74! If you don't already have a copy of the game, now is the perfect time, as beta is just around the corner (assuming said corner is ever so slightly twisty and kind of doubles back on itself a bit).
In other news, Alpha 1.1.2 is almost ready. I am working on balancing the new classes, as, in testing, both were kind of OP. I'd like to get a couple more of the classes in before next patch too, as that will only leave 2 more before the current spell tree is complete. You can see a preview of the new classes below. Alpha 1.1.2 will also be introducing trap disarming, a heap of new items, searchable bookcases, and a load of general tweaks to mechanics and bugfixes.
~TheIndieForge
Patch Alpha 1.1.1 Preview
First off, yes, this 'first update since returning' has taken a little longer than I originally planned. This is mainly due to the fact that returning to a project after some time away gives you a fresh view on everything. My fresh view was basically "yuck, I could do this so much better now" for many of the systems I looked into, and so a lot of time has gone into complete redesigns and rewrites of much of the game's code. I discussed a few of these changes in the last news post, and I'm happy to report that majority of those changes are now in place. So, on top of that (which you can view here), here's a run through of what to expect when Alpha 1.1.1 launches at the end of the week.
Terrain Generation Redesign
Over the last few patches, terrain generation has come on a long way from the original array of square rooms that made up the dungeon floors. However, while the last version of the terrain generation was one of the most advanced so far, it was lacking in design. Dead ends, corridors that looped back on themselves, rooms disconnected from the main dungeon, and illogically placed rooms made exploring increasingly difficult. Adding to that the massive size of the floors meant an awful lot of backtracking, and that is not what Claustrophobia should be about. Below, you can see a floor generated with the old system, compared to a floor generated with the new system. Both use the same parameters to generate. Black tiles are walls, white tiles rooms, pink tiles doors, and green tiles corridors.
As you can see, the size of the floors has been reduced (item and enemy spawning has been changed to reflect this), and corridors and rooms are now laid out in a logical connected fashion. Rooms now spawn right up to the edges of the map, which removes the outer corridor that bordered all old maps. Corridors will pretty much always lead you somewhere, and will not backtrack or curl inwards on themselves.
As well as the the actual layout of the map, enemy spawning has been altered so that different types of enemies will inhabit different floors, and their levels will reflect the floor they are on. Generally speaking, the player should level twice per floor. 
Fog of War and Lighting Effects
If you follow me on Twitter, you would have seen that earlier this week I finally fixed the FoW. The player's line of sight is now properly indicated, with lighting taking into account the player's position and angle compared to that of all other objects in the room. This means that the dodgy black tiles in the corners of rooms has been fixed, and ranged units can no longer fire through walls at certain angles. Screenshots can't really demonstrate it, but it looks great in action.
Skill Engine Redesign
As was discussed before, I have redesigned the skill engine so as to encourage the player to make decisions and craft their own class as they play. Below is a description as to how this new system works (it's actually super simple to use):

Item and Gear Changes
A lot of gear balancing and changes has taken place, based on player feedback, and my own experiments. First of all, all gear now has a minimum item level which the player will have to be in order to equip and use that item. This prevents the player using gear that is way above his level, and also gives you an idea about what unidentified items you might want to identify, based on your current level.
Gold is now much more frequent to find, but the amount you get at a time has been reduced. Item rarities have been massive increased, and rarity stats fixed so that rarer items will always be better than their common level equivalent. Shops will now spawn a much more general range of gear, and far less rare, epic, and legendary items. Rings and necklaces have also been fixed so that they will always provide stats.
Scroll spawning has been changed. Scrolls will now only spawn in libraries, or when crafted with paper and enchanted ink. On top of that, Scrolls of Enchantment have been nerfed so that a single item can only be enchanted once. I know far too many people were simply spamming enchants on their main weapon to the point where it was about 10 levels too powerful. Sorry guys, but not going to happen any more! 
Final Comments
As well as all this, and everything mentioned in the previous post, there's also a whole heap of bugfixes, item balancing, UI changes, enemy additions, crafting changes, and loads more. Now that a lot of these changes are in place, and the core mechanics are nearing where I want them to be, I can begin to focus on adding content. More on that next week!
Alpha 1.1.1 will launch at the end of the week, and be sure to read the patch notes when it does! While saved games will continue to work into this version, I highly recommend starting a new character, due to the terrain generation, skill, and item changes.
That's all for now!
~TheIndieForge
I'm back! And I return with designs and updates!
Hello everyone! My exams are now (finally) over, and I can return to Claustrophobia development. If all goes according to plan, I will have more time than every before to work on the game, so updates should be returning to the normal schedule soon. Of course, the first patch will not be straight away, as I haven't had time to work on it yet. However, I'm going to use this news article to talk about the changes that will be coming into place over the next few updates. Many of these features are purely designs and not implemented systems, but I think they are important to share now before I completely commit to the changes. So treat this post more as a preview of the ideas currently floating around in my head.
Further UI Polish
So as you all know, the last major patch introduced a nicer, more user friendly UI, which was met with good feedback. Of course, it had it's teething issues, so some further changes have taken place. 
Most noticeable of all is that the inventory and character equipment/stats window have merged to become one single Inventory panel. While two separate windows allowed a little more customization of the UI layout, separating the inventory from the equipment panel meant that when highlighting gear in the inventory, it was not immediately apparent what gear changed which stats, without opening the other panel. Having windows which share functionality, but can be closed separately from each other is generally a bad design choice.  
Secondly, the small panel underneath the map, which displayed your level, the floor you were on, and your gold, has been removed, and that information can also be found in the Inventory panel. This is a purely aesthetic change: the panel just didn't look good where it was.
Finally, a number of people were having difficulty judging their vital statistics in the lower bars. The bar graphics have been cleaned up to remove unnecessary details, and the numbers which show the stat next to it's maximum value have been changed to only display while the mouse is hovering over the UI.
Crafting Changes
Crafting will be changing, but not just in appearance. The previous crafting system, which required arranging items into specific crafting positions, will be replaced by a system which is both easier to use, and allows for more item recipes to be created. Below, you can see a mock up of this new system: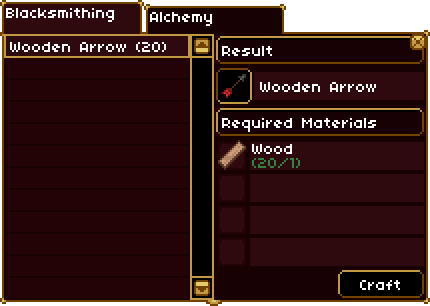 The left hand panel will contain the items you know how to craft, and the right hand panel the materials and quantities needed to craft it. This makes it much more obvious as to how many of an item you can create, as well as precisely what materials you need more of, and will help new players get into crafting quicker. New recipes will be discovered as you level your character up (it will no longer be tied to a separate crafting level), and in the case of potions, discovered by drinking the corresponding potion type.
Skill Engine Changes
Before you panic, I'm not about to waste time redesigning all the skills again! I'm happy with the skill sets, but I am not happy with how you can currently access and use them. While I want the player to be able to create their own custom classes by picking and choosing different skills to assign points to, the current system means that by level 10, you could feasibly have chosen only the first skill of 10 different skill sets, resulting in a character who can only do a very minimal bit of everything. I think this is detracting from committing to class trees, which means the player never gets to feel the final skills in a tree, and means you never have to think ahead when initially creating your character. So I what you to have freedom of choice about how you want to play, I just want you to consider your options and then commit to those choices for the course of your game.
So, based on these points, the skill engine will be changing. The current skills sets, including those which have not yet been added, will be referred to as 'roles'. On creating a new character, you will be presented with all of the roles, which can be filtered by class archetype (Strength, Agility, Intelligence). Here you can view what each role does and will be able to do should you choose to fully level it. You will then pick two starting roles, say Juggernaut and Duelist. Every other level, you will get a talent point to put into one of those trees. At level 5, you will unlock a third role socket, at which point you can choose a third role to add to your class. You will then receive another at level 10, then 25, then 50. That way you can still customise the class you want to play, but you must commit to learning some of those skills to begin with. Of course, should you wish to fully level only one role at a time, then you can.
Enemy Changes
At the moment, different enemy types spawn at different player levels, in a linear fashion. Rats and Squishies will spawn at player level 1, while Spyders will spawn at player level 6. This is independent of the floor that you are on, or the room type you are in. Of course, this isn't very interesting, so enemy spawning is going to be changing. The plan is to have different enemy types 'living' in different environments: rats in corridors, spyders in web infested lairs, gobblings in shanty towns, skeletons in crypts, that sort of thing. This will mean much more interesting and live environments to explore. I will talk a little more about this sort of thing in the final section.
Enemies are currently very predictable. After beating so many rats with your weapon of choice, you know exactly how said rat is going to respond to said weapon thwacking. While knowing your strengths and weaknesses is good, knowing exactly what an enemy is going to do every time is no fun. So enemies will soon have a chance of spawning with randomised 'conditions', which alter exactly how an enemy behaves. You may come across a rare Skeleton which teleports, or a Squishy which multiplies on death, or an extremely tanky rat. These mobs will be indicated as uncommon or rare, and will drop extra loot or experience on killing them.
Engine Changes
As you may have noticed, the last few patches have featured reworks of core systems, such as terrain generation and the UI. This is because they were some of the first things I began work on over a year ago, and the code for them shows. I have learnt a lot whilst working on Claustrophobia, and looking back at some of the original programming hurts my brain. Therefore some of the largest changes that will be taking place over the next few weeks will not be something I can show you, or that you will notice in game, but rather a rewrite of the underlying game engine for performance and structure reasons. It will also correct a number of bugs that have cropped up, and make it easier for me to add to the system later on. So if patch notes seem small, but mention 'system changes', then chances are that parts of the game's framework will have been completely rewritten, which will be time consuming, but ultimately much better for the game in the long run.
So, I hope that gives you an insight into everything that's changing and going to be changing. Bare in mind that I haven't mentioned any content additions here, just feature changes. Content will be coming soon too! 
Thanks for waiting patiently, and it's great to be back!
~TheIndieForge
Hello all! It's been a while since the last proper update, mainly because Alpha 1.1.0 is massive. I'm going to break down the major changes in this news post, but there is a lot more stuff going into it as well. Probably the most important piece of information is that 1.1.0 will be launching at the end of this week. So if that was what you wanted to hear… you've heard it. Now, what's in it?
New Map Generation
Probably the largest change is to the dungeon floor layouts. This is the first step toward a more interesting and logical generation system which I will be working on over the next few weeks. Instead of just rooms connected to each other by doors, floors now generate with blocks of rooms, single rooms, corridors, and mazes, as shown by a sample generated map below (rooms white, doors pink, corridors green):
This change not only makes exploration more interesting, but also prevents previous door and room spawning errors, and allows much greater customization of floors, both for me to work on more interesting layouts, and for later player customization options. 
Since the overall floor generation has changed, changes have also been made to individual room generation. Rooms can now follow set layout types when being generated, which in future means specific room types can house specific enemy and item drops (a similar system already existed in the form of gold rooms, libraries, dining rooms etc, but the new system is much more efficient and flexible).
Potions and Scrolls
The next change/addition is to how potions and scrolls work. Sticking true to the original Rogue formula, all potions and scrolls now start out both randomized and unidentified, leaving the player to identify its use. This can be done either by using a Scroll of Identification (which initially, it is unlikely you will have a huge supply of) or by biting the bullet and using them. This can of course be very risky, as there are an equal number of good and bad effects, but once identified, you will know what that specific scroll or potion does for the rest of your current game. Once you die, all potion and scroll effects will be randomized again.
I will be adding to the number of potions and scrolls steadily each patch, and certain ones will be rarer than others. Health potions and Scrolls of Identification are more likely to be identified since they are more useful. You never know though. Since you will be needing scrolls and potions a lot more post 1.1.0, scrolls can now be crafted by using a bottle of Enchanted Ink on a sheet of Paper, and Empty Potion Bottles remain after the contents have been drunk. Alchemy remains the same, just with mushrooms corresponding to potion colour, as seen above.
Graphics Update
A lot of Claustrophobia's graphics were made almost a year and a half ago now. The walls, for example, have had the same graphic since the very first PreAlpha version back at the start of 2012 (at that point the game had 1 item and a character that 9 times out of 10 went in the opposite direction when you clicked a cell).  So I decided it was time to revisit a lot of the main tiles and give them a bit of a retexture. I've tried not to stray too far from the original graphics, while still giving them a much needed facelift.
Enemy and Item Rescaling
One of the largest problems in Claustrophobia currently is the way that enemies and items scale. For anyone who has reached level 20 and higher, it becomes apparently quite quickly that you are fighting a losing battle. Although you could say that in a roguelike that is kind of the point, the balance for high (and low really) level just wasn't there. Enemies would level up as soon as you did, which made leveling more a punishment than an achievement. The exponential increase in needed XP also meant that at high level it was impossible to get to the level needed to take on enemies.
Therefore enemies are now leveled based on the floor which you find them on, and reward XP based on the amount of experience needed to reach the next level, and the amount of enemies on that floor to dish that XP out. This makes leveling a much smoother experience, especially at high level.
The second change in terms of scaling is to do with both the gear you find, and how frequently you find it. Gear has been rescaled for a third time. The rarity of an item is now dictated by the amount of different stats on it, and the item level dictated by the amount of points in each stat. Shops will now sell much higher quality items, and have a preferance toward gear. Gear drops less frequently, with a higher chance to drop potions, scrolls, and crafting materials. Scrolls have a greater chance of dropping in libraries.
New UI and Resolution Options
There's already a whole news post on this, so if you want more information on it, you can go check that out here.
Two IMPORTANT Closing Messages
Right, this one's kind of important. As I said at the top of this post, Alpha 1.1.0 will be launching at the end of this week. A couple of weeks after 1.1.0, updates and news will temporarily slow down for a month or so. This is because in a couple of month's time from now, I have a number of very important exams, which I really need to dedicate majority of my time to. My 'revision' at the moment consists of Physics and Mechanics books lying open around my keyboard, and unfortunately, I have not developed the power to absorb knowledge from around me.
I will still try hard to keep up to date with any messages/questions/suggestions/comments sent to me, and I will be working on Claustrophobia in any other time I have. There will just be less news and updates in that time. As soon as my exams are done, I'll be straight back to the normal update schedule.
Secondly, due to that changes to items and world  generation, it is not advised that you continue a saved game into the new patch. While the save file will work, there may be some issues caused by items you were carrying pre patch, the level of enemies you have already encountered, and of course, floors which you have already visited.  I don't say this often as I know how annoying it can be, but for the best game experience, I strongly suggest you start a new game for 1.1.0. 
Whew. And that was the news. Time to go resolve some forces or something.  
~TheIndieForge
New UI and Resolution Options
Hello everyone! It's been a while since a proper update on what's new. Other than bug fixes, the main thing I have been working on is a complete redesign of Claustrophobia's UI, for a more polished and more customizable experience, and (finally) resolution and proper fullscreen customization. So, I present to you, UI v3!
As you can see, the right hand side panel is gone, allowing the screen to be resized without the fixed window stretching and breaking. Instead, health, mana, experience, and skills can be found at the bottom of the screen, in a more traditional rpg style. The top right remains as the minimap, with the addition of gold, level, and floor counters.
All other features, such as inventory, character screen, skill book etc, can be found in moveable and minimise-able windows, which can be opened and closed via a pop out panel on the left hand side of the screen. This gives you both more room to see the play screen, and choice to arrange UI elements how you see fit.
In addition to just being a visual upgrade, the new UI is also more optimised, and all tooltip bugs have been fixed. But of course, one of the main reasons for this change is to allow support for multiple resolutions, so…
…we also have a brand new Options menu, allowing you to finally change your screen resolution, as well as choose the scale of the game sprites, the scale of the UI, and fullscreen.
Alpha 1.1.0 will be coming soon, and includes a lot of polishing and graphical changes, as well as game rescaling, and new customisation options.
~TheIndieForge